Establishment with charm in Tarifa, Cadiz
Welcome to La Estrella de Tarifa
In the heart of the city's old town of Tarifa, where the streets are reminiscent of the Arab souks, is "La Estrella de Tarifa", with its washed in white and indigo blue walls.
We have 9 charming guest rooms, 4 double rooms, one Single room and four Superior Twin one of them is a penthouse, and each personalized and decorated in the most pure Arab style where the spirit of "La Estrella" is present in every detail: the crafted tiled blue and white floor, the curtains, the vases and the forging stall lanterns. ..
All the rooms are fully-equipped with satellite TV, Wi-Fi, fridge, hair dryer and fresh fruit. An exquisite background of ambiance music during the day and candles and incense in the evening, along with a permanent exhibition of photography and a small boutique of souvenirs inside our facilities; all these elements combined, make of "La Estrella" a place  with a magical air, very cozy and romantic.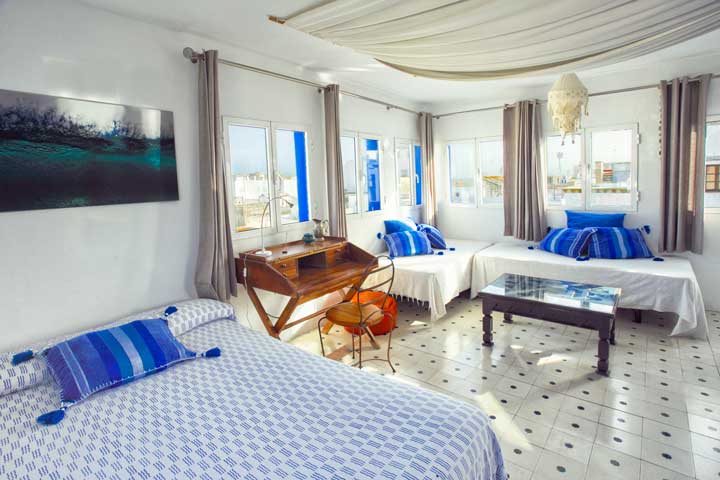 Our qualified staff will provide you all the necessary tourist information in several languages, as well as a total guarantee of cleanliness and very careful attention.
Let us recommend you activities and experiences that you can enjoy in Tarifa depending on the weather and your interests: Tours to Morocco, whale watching, kite surf and surfing courses, scuba diving, horseback riding excursions, dinners ... We can manage and book all of them for you, at no additional cost, we just want to make your stay with us unforgettable.
In the neighboring streets are the Church of San Mateo, the Castle of Guzman el Bueno, the best shops, cafes, tapas bars, restaurants and pubs of the city without having to pick up the car ... the beach and the port are a two-minute walk away. Welcome to "La Estrella de Tarifa"!
Activities and tourism in the beach of Tarifa, Cadiz
A wide range of activities with La Estrella de Tarifa
Tarifa is strategically located within La Costa de La Luz, between two seas, the Atlantic and the Mediterranean. It is a perfect place to give you a myriad of outdoor activities, cultural visits and excursions of all kinds.
Let "La Estrella de Tarifa" offer you our selection:
Discover our best rooms: